TA Aerospace receives Lockheed Martin Aeronautics Elite Supplier Award for 2020!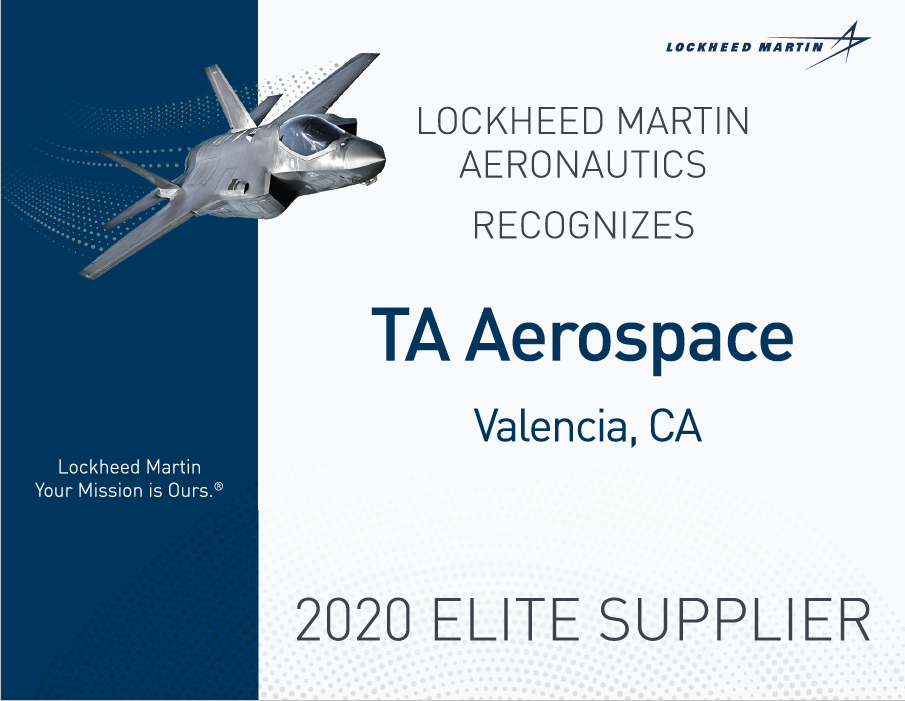 TA Aerospace receives Lockheed Martin Aeronautics Elite Supplier Award for 2020!
TA Aerospace has been recognized as part of an Elite group of top performing suppliers by Lockheed Martin Aeronautics for 2020.
The recognition is based on TA Aerospace having achieved outstanding performance levels in quality and delivery throughout 2020.
Lockheed Martin quite rightly demands the highest levels of performance from its global supply chain and requires partners who can harness innovation but remain agile to deliver competitive advantage in both cost and quality.
To be recognized as an Elite supplier is an outstanding achievement by TA Aerospace and a fitting testament to the hard work, dedication, and commitment of a highly professional team.
TA Aerospace has been supplying our highly engineered, elastomeric products to a global customer base for many years, supporting a broad range of major commercial and military aerospace programs.
Supplier performance excellence is fundamental to Lockheed Martin Aeronautics success. The annual Elite Supplier Award is Aeronautics official program to recognize suppliers who achieve the highest performance standards necessary to meet customer expectations and help us remain competitive in the global economy.
Lockheed Martin Aeronautics has over 1,400 active suppliers around the world, but only a small fraction of those receive the Elite Supplier Award each year. Only 13 small and large businesses are being recognized by Aeronautics for exemplary performances in 2020.
To be considered for this award suppliers must maintain 99% quality and delivery each month of 2020. This honor is based on a variety of factors including: a minimum of six months or more of on time deliveries to one of our major programs, and alignment with Lockheed Martin Aeronautics business values. Additionally, the award selection process includes an extensive review of criteria such as technical capability, cost, program support, problem resolution and ease of doing business. Furthermore, to receive the award, our suppliers must meet Aeronautics most stringent quality requirements. Such quality metrics include: no quality issues or rejection rates; maintenance of quality certifications, and no plant disruptions or major shipping issues. Most importantly, our 2020 Elite Suppliers average 99% on time deliveries and zero quality defects through the full year. These small and large businesses represent the top one percent of suppliers supporting the corporation's mission.